Are you looking for a fun way to teach grammar to your children? If you are a homeschooling family or a family that has children that attend school in a building,  Fix It Grammar from Institute for Excellence in Writing can help you. IEW's Fix It Grammar is a wonderful way for children to get the grammar lessons that they need. Heck, I could use a little help in grammar even as a college graduate. We received the student, as well as, the teacher's manual for IEW's Fix It Grammar Book 1 The Nose Tree for free, for us to review for our readers.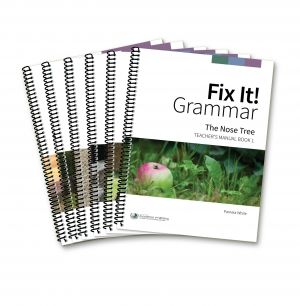 There are 5 books in Institute for Excellence in Writing's Fix It Grammar program. We chose book 1 for my daughter, Curie, who is in the 6th grade. Fix It Grammar is a great product for 3rd grade and up. I personally chose book 1 for my daughter after taking the placement test that IEW offers. I must admit, even as a homeschooling mom who loves to teach, grammar happens to be my least favorite. I happen to be a science and math, gal. So, when I was given a chance to review a product that offers an innovative way to teach grammar to my children, I snapped it up. I am sure glad I did.  IEW makes learning grammar for children so much fun and easy!

Fix It Grammar Book 1 The Nose Tree cost 19.00 for the teachers manual and 15.00 for the Student Book. Both books are soft cover, spiral bound, and of good quality for your student. I also liked how the grammar cards are printed on hard card stock and ready for your students use.
How We Used IEW's Fix It Grammar Book 1 The Nose Tree:
Curie wasn't too excited about adding a grammar program into her daily home-education routine. That is because of her home-education teacher (myself), I cannot stand grammar. It's not that I lack the knowledge of grammar, I just do not take the time to look over things. If I was given this curriculum when I was younger, I would have loved grammar. I witnessed my daughter,  skeptical at first but quickly changed to excitement, learning grammar and I was excited to teach it.
Before Curie started her student book, I did my homework as the teacher. I found the teacher's manual to be super easy to understand. You have to approach this curriculum as a series of modeling excersices. I did not think this approach to grammar was going to work. Guess what? It Does! AWESOME SAUCE! The lessons are not long at all, in fact, they break them up into 33 weeks. To complete the curriculum in 33 weeks, you only have to do 15 minutes a day, 4 days a week. We chose to do the curriculum in half that time by doubling up on the lessons so that we can move on to book 2 by next semester. Curie, did 30 minutes a day, 4 days a week. I was surprised how much Curie wanted to learn grammar. A subject I found hard to teach became so much easier with Fix It Grammar. The guided lessons, I as a teacher, just flowed through. Curie asked many questions that I was able to answer in the teachers guide. We started together on week 1 and took the lessons as Curie wanted them, she was eager to get through the lessons because Fix It Grammar is telling them a story as they go along. What do I mean a story? Let me explain:
The Nose Tree is set up in sections so the lessons take no longer than 15 minutes at a time. First you read, then you fix with your student the passage of the story. Just a small passage at a time. We picked out any words that Curie did  not know the meaning of and then looked them up. In this particular book, Curie was familiar with most of the words and their meanings. After the fix its and vocabulary look up, we then moved on to the re-write. For Curie, the re-write was the best part of this curriculum. She loved writing each passage in a separate book. The story came together through all her hard work. She thought about the story at first; but, as the weeks pasted, she thought about the grammar and where things were supposed to be. Curie began to edit her own work which can be difficult for children, as well as, adults.
My overall thoughts on IEW's Fix It Grammar Book 1 The Nose Tree is excellent. I glided through the teacher's guide, with ease. I actually enjoyed teaching grammar. I cannot believe it myself. Fix it Grammar lets your student know that its ok to make mistakes and that is how we learn. My daughter was excited to learn with IEW! Curie's favorite part is reading a wonderful story of soldiers with magic items that unfolded as she learned her punctuation, parts of speech, and other wonderful techniques. I am a college graduate and sometimes even a college graduate can learn new things while teaching. I learned wonderful lessons right along with my daughter. I also loved that as the weeks progressed Curie took over showing me wonderful new things she was learning. I could go on forever about the wonderful things Fix It Grammar has to offer. I, honestly, could not write anything negative about IEW's Fix It Grammar. The proof is in the pudding as they say. I can see a difference in my daughters writing already and it is wonderful!
You can Find Institute for Excellence in Writing on:
Read other wonderful reviews on IEW's Fix It Grammar, (also the other books IEW offers for Fix It Grammar)