Essential Skills Advantage is for children in grades K-6. This is an online program to help children with reading and language skills. How is ESA different from every other online learning program? Essential Skills Advantage takes each individual learning style into account with your child. Some of what they will learn is phonics, sight words, spelling, vocabulary building, and reading comprehension with so much more for each child to learn while having fun! Our family was given a 1 year subscription to Essential Skills Advantage premium plan to review and share our thoughts with our readers. You can purchase a premium plan for only 4.99 a month with this wonderful coupon code "TOS50″. This code is for the premium plan. As a "reminder" to our readers this coupon code will expire on October 1st, so HURRY and purchase Essential Skills Advantage! The regular price is 9.99 a month to sign up without the code.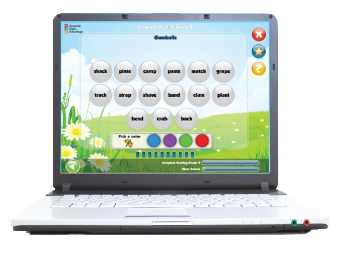 We used Essential Skills Advantage in our daily routine as a home educating family. My 5 children including, Elion (preschool), loved Essential Skills Advantage in its entirety. After all our book lessons are done at the end of the day, I allot my children online learning time. With my older children, I was able to get other things done because the program was so easy for them to navigate and it allowed them to learn with little supervision or help.
My older children, Einstein (grade 7), Curie (grade 6),and Franklin (grade 4), really enjoyed this program. Einstein's favorite part of the program was the vocabulary builder 6. He had so much fun in the homophones word search. Einstein would set a timer to see how fast he could go through the word search as a game. He had so much fun on this program even though Einstein excels in reading. Essential skills gives him a fun way of going over spelling, grammar and language skills in the areas he needs work on. Einstein is in 7th grade, however, he really liked learning with ESA!
My younger children Hubble (2nd grade) and Elion (preschool) also really liked this program. I did not ever hear any complaints about getting on ESA. From the start, my daughter loved the Kindergarten complete reading. Elion says, "Mommy I make it look so easy!" One of the catch phrases when you do a great job on the lesson was a little dog that came on and shook his hips and said, "You make it look so easy!" I thought that was so cute.
As a family, we have been looking for a program that our children would love to learn that had multiple learning areas. We found that with Essential Skills Advantage. It is really easy to get started, log into, and navigate. I did not need a HUGE instruction manual to get around. I am impressed at how easy ESA is to use for parents as well. The parents account has updates, as well as, progress for each child. With our youngest daughter, Elion, I had so much fun sitting with her to see her face light up with the lessons. The lessons are not confusing for children. For example, with the Complete Reading for Kindergarten, if your child needs something to be repeated, there is a picture of an ear to have them repeat the word or instructions. I like the voice for our children because it is clear. The pictures were very good for our littlest to understand and there is no guess-work.
We will continue to use ESA next year as well. My oldest son would like to see the grade levels increase so he can continue using this program through middle school. I would love that! My daughter, Elion (preschool), was frustrated when she played the word matching games. With every correct match, the card would disappear to expose a piece of the picture behind it. Sometimes the picture was a dog or some other fun, friendly picture for children. Elion expressed that after she was done with the matching and won, the picture would disappear to fast. She needed more time to see her accomplishment. While we are on the subject of accomplishment, ESA gives the kids printable certificates as motivation for children! In some states, having those certificates is a must. I personally do not live in a state with those laws, however, I like to have them on file for my children in the future!
The only negative that I can find with ESA was the login process. You have to log in and out too many times with each child. I would like a place to login as a family then a simple button to switch users until we log out. I understand to keep good records for each child you must have a login process, however, less time would be great with one family page!
I am impressed with Essential Skills Advantage giving my family a program that makes learning happy and fun! My 5 children liked learning through Essential Skills Advantage. With online programs, our oldest son is hard to impress, he would rather write it in a book; however, he really enjoyed this program. I liked how he took to ESA with ease while having fun learning. All my children are gaining confidence in language skills because of this program. As a mother of 5 homeschooling children, I like how this program goes over so many things that are beneficial in my children's learning needs. ESA is great if you are a home-educating family or you can use it as a supplement program after school as well. I liked how ESA focuses on learning, not games for children that are educational, but real learning!
Essential Skills Learning does offer a program that is completely free to use. You can sign up completely FREE! As a member, you can enjoy every course that ESA has to offer. However, there will be some of the available features missing with some advertisements included. I did not review the FREE program. Our thoughts and review is on the Premium Plan. Why not log on to sign up for your FREE membership, then if you like it as much as my family, upgrade to the premium plan. Don't forget to use the 50 percent off coupon code at the top of this review!
Find Essential Skills Advantage on:
To read other homeschooling mom reviews on Essential Skills Advantage check out The  Review Crew!