Next month my daughter Elion, will be learning about Friends and Feelings. What better way to get her excited, than through books! Below are four books that gave Elion great examples of feelings. After we read each book, together we discussed the feelings that were mentioned in the story. I told Elion how I express those particular feelings and she told me how she expressed them. Learning about feelings together!
All About Love:
Yummiest Love by Lisa McCourt, is a wonderfully illustrated book, written from the parents (in this case, mama/papa bear) perspective. Teaching children that we love everything about them. I personally liked the part on food in the story. Mama bear states that she loves baby bear even when she dislikes broccoli, also when broccoli was her favorite, again. Letting my daughter know that I love it when she has her own mind, however, indecisive it may be (LOL). No matter what her daddy and I love her!
Great read for ages 2 plus, Elion loved this book! Add to your Goodreads or Purchase on Amazon for (Used) 5.50. If you have little ones this is a at home library keeper.
Being Scared:
There's Something In My Attic by Mercer Meyer, is a cute book that lets children's know that it is ok to be scared. In this case, what the little girl is scared of is more afraid of her. After living in the city, her family has moved to the country were there are all kinds of bumps and creaks in the night. She is determined to find what bumps in the attic. Of course, the monster she finds there is more scared of her than she is of it!
Beautiful illustrations, of course author Mercer Mayer is one of my children's favorite authors. He also wrote the little critter series, as well as, There's A Nightmare In My Closet. Overall I would purchase any of Mayer's books for my children!
Add to your Goodreads or Purchase on Amazon (New) 5.99
Happiness and Family:
The Hello, Goodbye Window by Norton Juster and Chris Raschka, is now my daughters favorite book! Elion adores the vivid colors in all the illustrations. She loves reading this book over and over. This is a cute book about a girl who goes to stay with her grandparents, she loves her family. The window in their home she has labeled the hello, goodbye window, she is so happy to have this window. She even pretends the window is magical! At the end of the story, she is picked up by her parents which she is happy about, however, she is also sad because it means she has to leave. I loved talking with my daughter on how its ok to be happy at the same time you are sad.
We used to have this book, however, we donated years ago. I checked one out at the library. After seeing how much my daughter likes this book, we will have to purchase again! I would personally recommend this book for ages 4 plus.
Add to your Goodreads  or purchase on Amazon (New, Hardcover) 14.29
To Be BRAVE: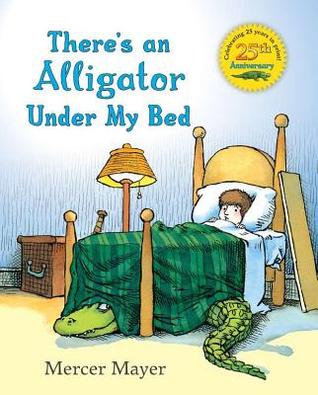 There's an Alligator Under My Bed by Mercer Mayer, is an awesome book that all my children love! We read this book together before bed and all my kids thought it was funny. A little boy thinks there is an alligator under his bed. He knows the alligator is there, however, when he looks the alligator is hidden from sight. So instead of being afraid, he is brave and lures the alligator to the garage! This book can be for bravery or touch on imagination / imaginary things. I personally loved this book, as well. The pictures are fun, great lesson for children, as well as, humorous!
I recommend this book for all ages, Add to your Goodreads or Purchase on Amazon (new, Hardcover) for 12.83
We would love to hear about great books for children you have read on Friends and Feelings!  Leave a comment and recommend a book to us!
Happy Reading!